Marketing and Sales Operations
Organized and managed a debate contest for the University of Waterloo Public Speaking club to encourage students to improve their speaking maintaining a competitive spirit while having fun.
Conducted research on hiring opportunities and challenges for a team of Account Executives to help prospective clients with a new innovative solution.
Facilitated a Sales Enablement program with the Sales Operations team which involved creating a systematic training manual and developing a strong support system to address concerns. 
Design and Illustrations
Inspired by a dialogue, this is a Public Service Announcement that emphasizes the importance of focusing on what is in front of us rather than looking too much into the future. This artwork was done exploring the rules and nuances of typography and screenprinting and the usage of warm colors made it stand out to the public.
A mural to establish my love for tea. The props which include the tea glasses, chairs, table, and an artist's book specifically made of tea replicate the typical "tea time" in a family setting. It also adds more cultural value as the illustration aims to show more authenticity towards how tea is prepared and consumed in India.
Gamification is the concept of implementing game elements like points, levels, etc. in non-gaming aspects of life. This work showcases how our everyday lives are quantified like the tracking systems we have on our phones for steps and calories, the reward points that we collect in most of the stores, and the employee ranking system in corporate settings. This illustration was printed on vinyl which was used to stick on the wall in a course-based exhibition.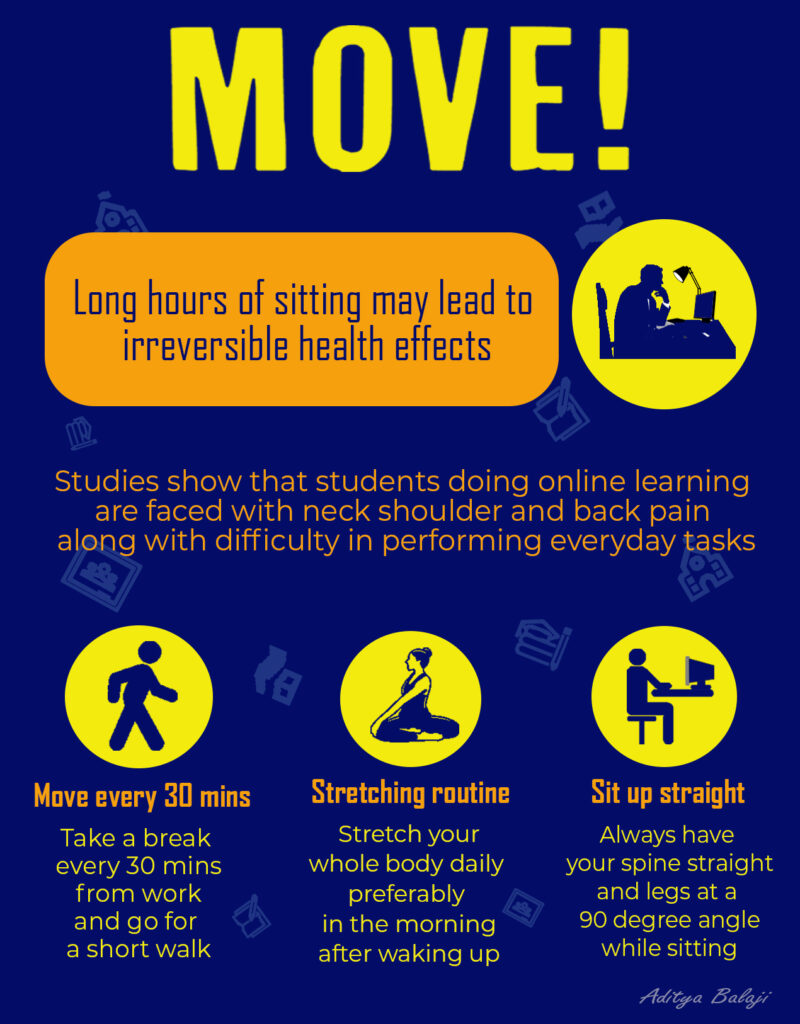 An infographic stressing the importance of moving and taking breaks in our busy work culture. Long hours of sitting can cause potential health implications and it is important to take quick walks. The colors of yellow and orange make the message bright from the dark background. Make sure to move and breathe!
Videos
Worked on a sketch comedy titled "In My Room" with a group of four. Handled the cinematography of the video along with contributing to script work. The heavy use of static shots widely contributed to the intended jokes and was appreciated by the professor and peers.
A solo travel film titled "India- The Konkan Experience" showcases the beauty of the Western Ghats of India. This was a single-person project where the scripting, filming, and editing were done by myself. This video is mainly appreciated for its pacing offering an immersive experience for the viewers.